go to CAPEview
---
Ice cream and summer go cone in hand and living in downtown Cape is an ice cream lover's paradise. I live about 4 blocks up from the river and there are at least five different shoppes within a six-block radius that serve ice cream cones. So when I want ice cream I start walking - in less than ten minutes I have a delicious ice cream treat.
So don't scream for ice cream - treat yourself to a delicious ice cream cone at one of these cool shoppes. One of the many reasons that downtown Cape is such a "chill" place to live or visit.
---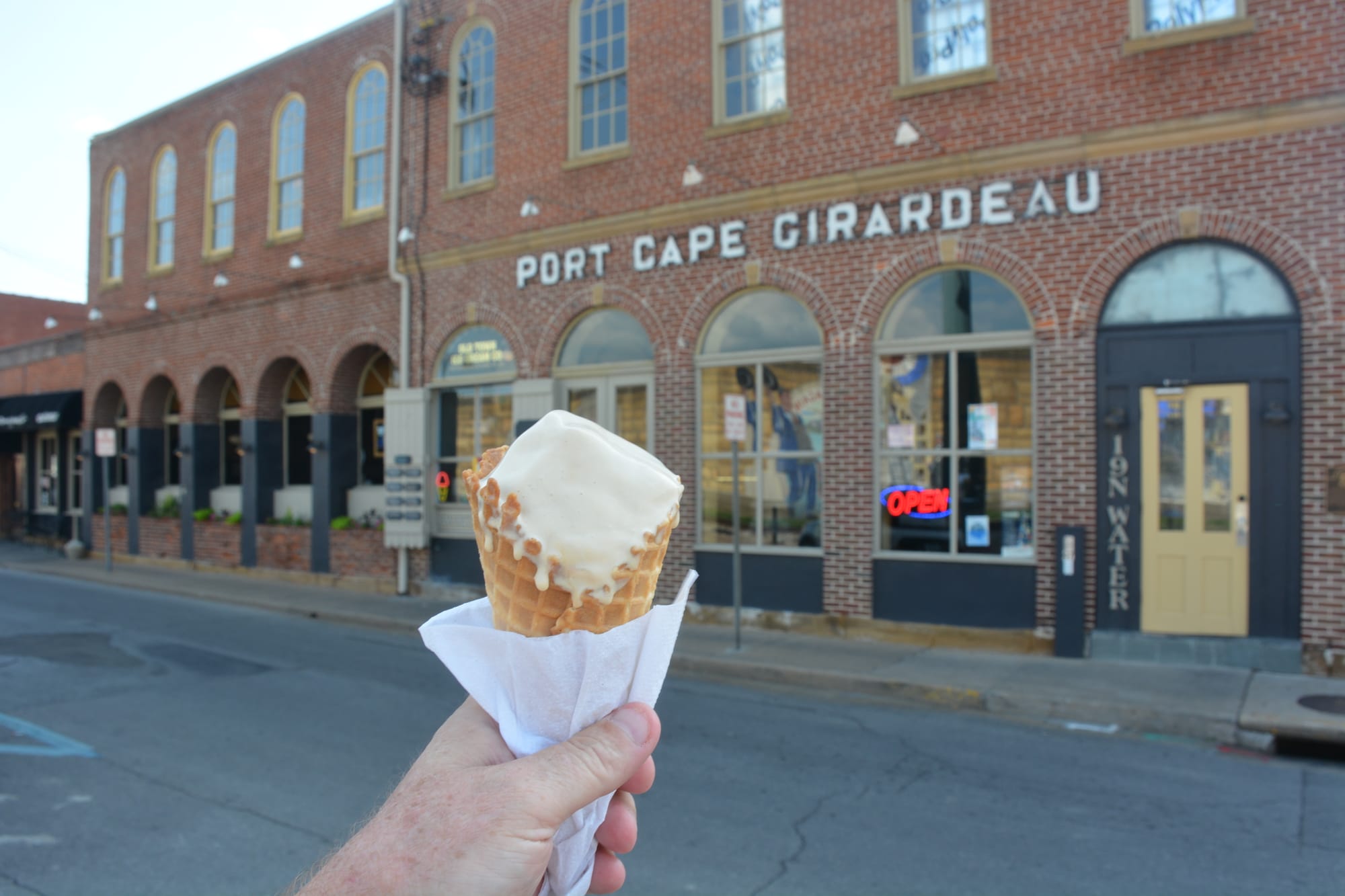 Old Town Ice Cream Co. @ Port Cape Girardeau
7 minute walk

I love the Salted Caramel in a waffle cone that you can get at the Port Cape ice cream window. It's creamy with just the right amount of sweetness, salt and caramel. If you want to enjoy an ice cream cone while walking by the river, this is the go-to window. It's at Water and Themis Streets where the flood wall's southern entrance is located.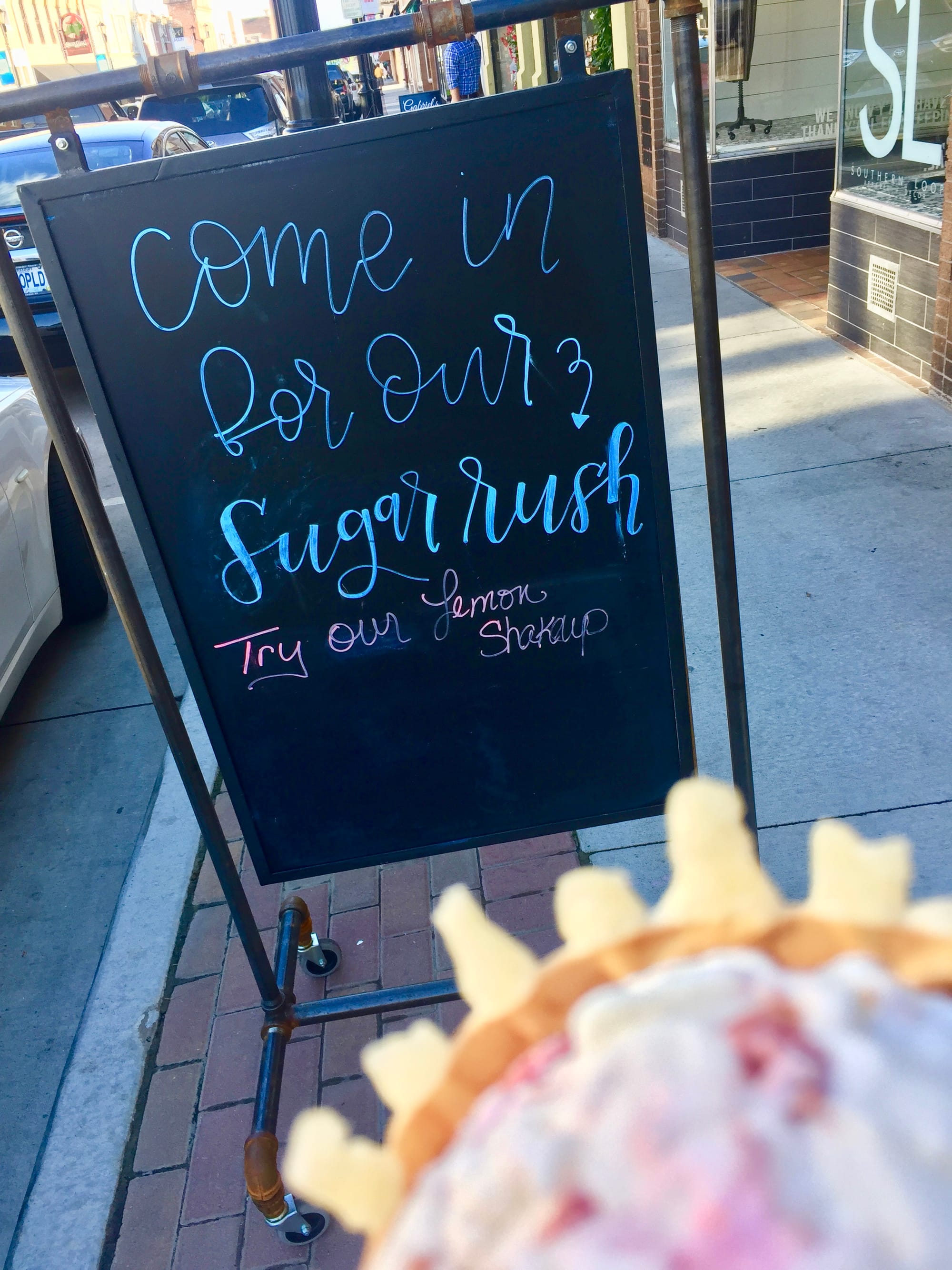 Sugar Chic Creamery
5 minute walk
One of my favorites at Sugar Chic is the Door County Cherry - rich and creamy vanilla with real cherries from someplace in Wisconsin. And for the record, the Sugar Chic doesn't need a chalkboard out front inviting you to come in. You can smell the amazing waffle cones baking as you walk by - it's like a magnet that pulls you in for your sugar rush. Marketing to the nose and it works!

**For a cool explosion of flavor in your mouth, try a scoop of "This @$%& Just Got Serious!" - just ooey, gooey goodness!**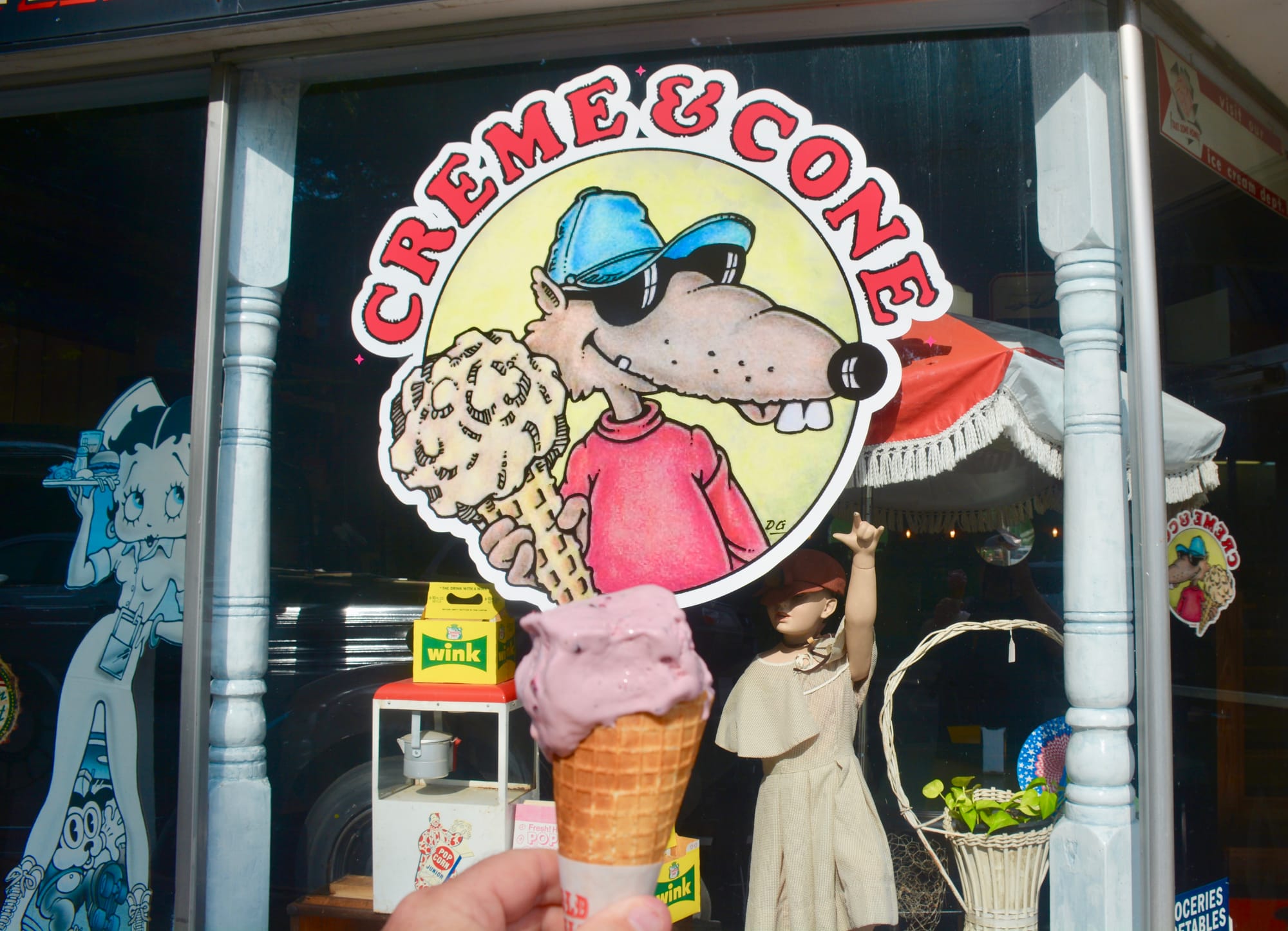 Cream of the Crust Ice Cream Parlor
6 minute walk
The Blackberry ice cream at Cream of the Crust is made with fresh berries grown in Jackson, Missouri. You can taste the local freshness of the berries and savor the crunchiness of the seeds. The choices are limited here - Vanilla, Chocolate, Strawberry and Blackberry. And although I only had the blackberry, I bet the other three flavors are just as delicious. So step back in time to a vintage ice cream parlor and bask in the sweet goodness of this delicious berry treat. You will be whistling "Blackberry Fields Forever".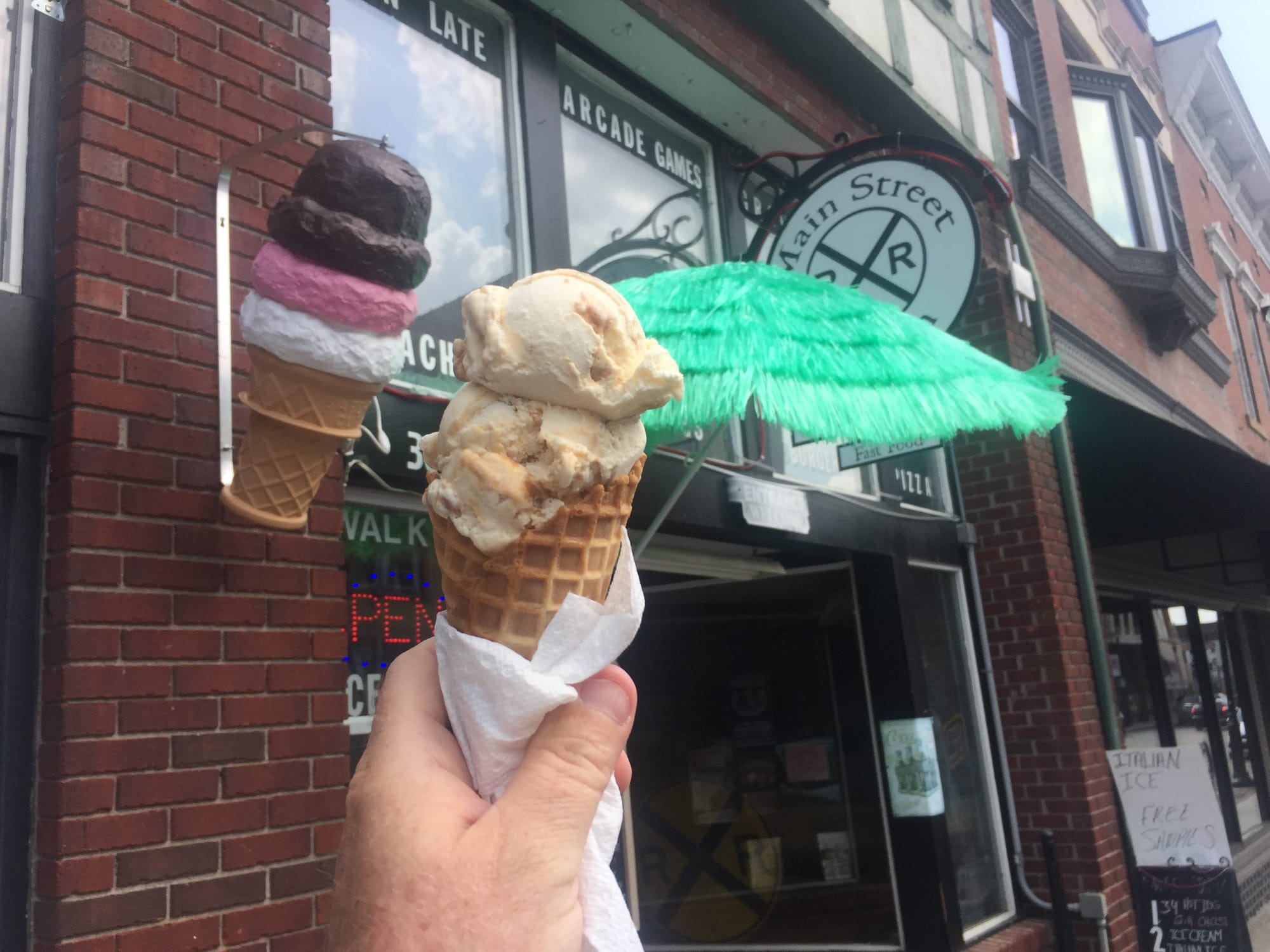 Main Street Station
5 minute walk
With almost 30 flavors to choose from, I finally decided to go with the Caramel with Pralines and I'm so glad I did. It reminded me of Baskin-Robbins Pralines 'n Cream, but better. Sweet pralines, swirled caramel, and creamy vanilla - so very good! And something about this place seemed real down to earth, from the hamburger that was sizzling on the grill to the top notch customer service. I can't believe I just discovered this shop - I will be back!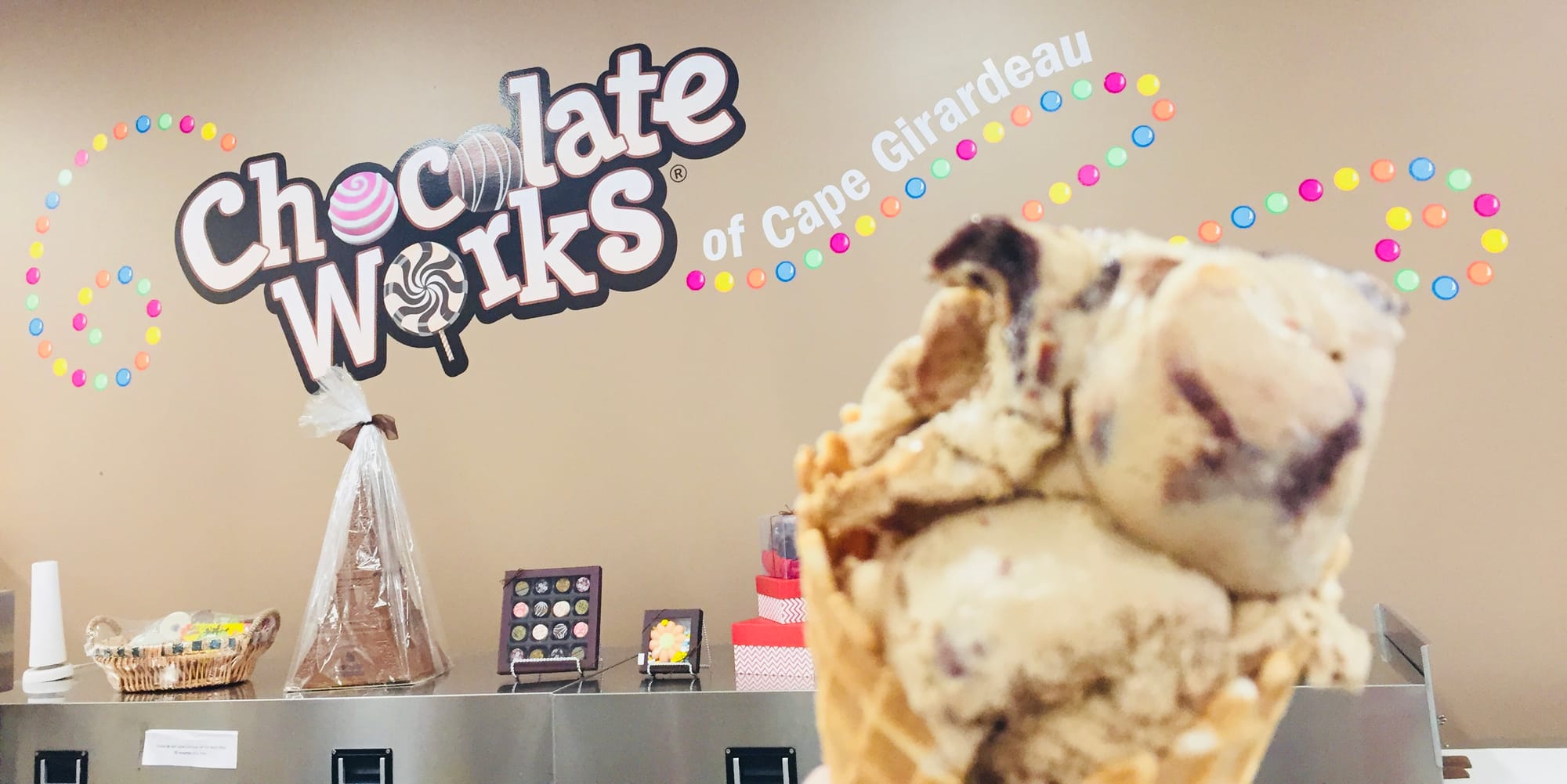 Chocolate Works
1 minute walk
One of my favorites at Chocolate Works is the Mocha Almond - a scrumptious mocha flavor ice cream with swirls of hot fudge and pieces of almonds. The only challenge when getting ice cream at Chocolate Works is you have to get past all the other wonderful goodies (fudge, assorted chocolates, truffles, dipped pretzels and strawberries, jelly beans, etc.) as the ice cream case is near the back.
This place is definitely a hidden gem on Broadway.
---
Five delicious ice cream cones, two brain freezes, and no screams.
---
go to CAPEview