go to CAPEview
---
I like to start my Saturday morning at the Cape Riverfront Market - not just for the fresh produce, but to support the local area farmers as well. There's something about eating local and seasonal food - it just feels good.
I think summer cooking should be simple with a few quality ingredients (I'll leave the difficult recipes to Sunday dinner, winter comfort foods and restaurants). So with the produce I bought at the market, I made a few salads that I think are perfect for this summer-like weather. And if you are like me, you take a recipe and tailor it to your own taste - enjoy these light, green salads with your own design.
---
Easy Breakfast Salad
Yes, salad for breakfast - and so easy! For the last few weeks I've been buying mixed greens from the Laughing Stalk Farmstead vendor and it's the best lettuce. Now I do love a salad with lots of add-ins (radishes, cucumbers, tomatoes, red onions to name a few), but I've been starting my day with a simple salad that highlights the lettuce.
I put the mixed greens in a bowl and sprinkle fresh lemon juice and extra virgin olive oil over the greens (I don't mix the juice and oil together before adding). I lightly salt the salad then gently mix the leaves. What I love about this salad is the focus on the lettuce - the oil and lemon really bring out its deliciousness. Let the morning sun and lettuce shine!
Alt mix: An over-easy egg placed on top of the salad is also delicious - the runny yolk creates a nice silky dressing. When adding the egg I leave the lemon out, but still include the olive oil. Egg and lettuce salad for breakfast - it's so good!
Basil and Tomato Salad
One of summer's most delicious pleasures is homegrown tomatoes, especially heirlooms - hurry up July. Fortunately, the spring tomatoes I've been buying at the market have been juicy and flavorful. I take fresh basil and place the leaves between large tomato slices. Add salt, ground pepper, and stream a nice, quality extra virgin olive oil over the salad (I recommend Lucini Italia, California Olive Ranch or Colavita). It's fresh. It's delicious. It's summer!

Alt mix: A really good fresh mozzarella cheese would add another layer of delicious flavor to this salad. Just add slices of cheese between the tomatoes and fresh basil. EVOO and salt it and dig in! An aged balsamic vinegar would also taste nice on this salad.

Tip: Keeping fresh basil, uh fresh: As pictured above, I place the fresh basil in a water-filled cup (or glass or vase) and set it on the countertop. I had bought the basil on Saturday and on Thursday the basil was still fresh and green - and that sweet aroma of fresh basil in my kitchen! Thanks to the vendor I bought the basil from who gave me this helpful tip.

The Five Farmer Salad
This delicious salad includes ingredients that I bought from five different vendors at the farmer's market (hence the recipe name): mixed lettuce, tomatoes, radishes, blueberries, and fresh tarragon.
I put the lettuce in a large salad bowl with leftover chicken cut in bite-size pieces and add my market produce: tomatoes, radishes, and blueberries (think outside the bowl). I then crumble a hard boiled egg on top of the salad.
I finish it off with extra virgin olive oil, fresh lemon juice, salt, ground pepper and fresh tarragon. This salad definitely supports local farmers with the five vendor representation. So. Very. Locally. Good.
Tuna and Tomato Salad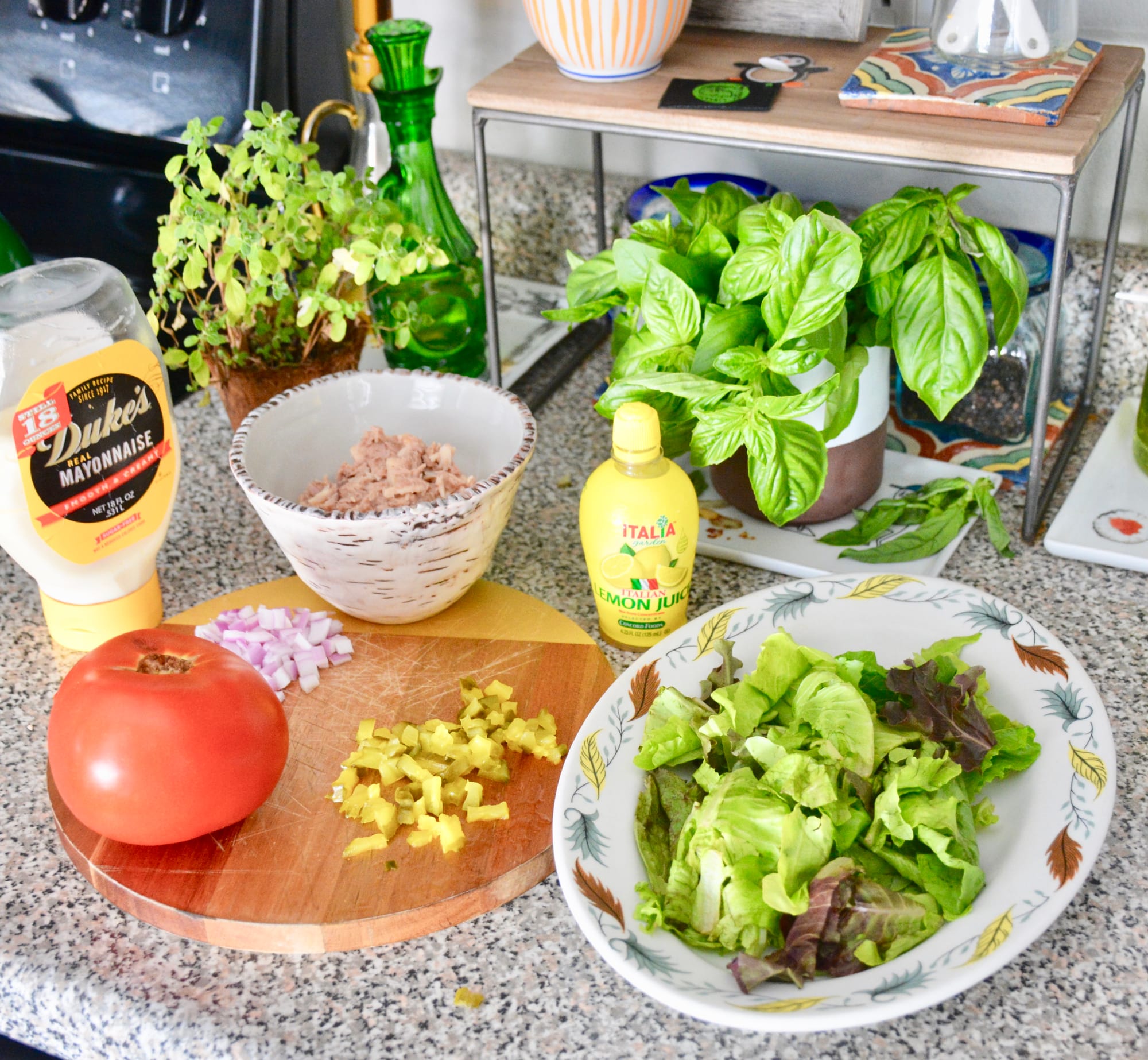 This is one of my favorite salads and is especially delicious when summer tomatoes become available (heirlooms are heaven).
I start by making the tuna salad. I drain two cans of tuna, add red onions, minced bread and butter pickles for some sweetness and crunch, and Duke's Mayonnaise. Duke's mayo is creamy and has a vinegary kick that pairs well with tuna. I add a bit of lemon juice, olive oil, pepper, salt, fresh thyme and basil. After a gentle mix, I pop in the fridge for about an hour to chill and let the flavors mingle.
I core a large tomato and cut slices along the side but not all the way through. I fill the sliced tomato with the chilled tuna mix and place it on a plate of mixed greens. Then I sprinkle lemon and olive oil over the greens, mix and grab a fork. Pairs nicely with a glass of freshly brewed iced tea.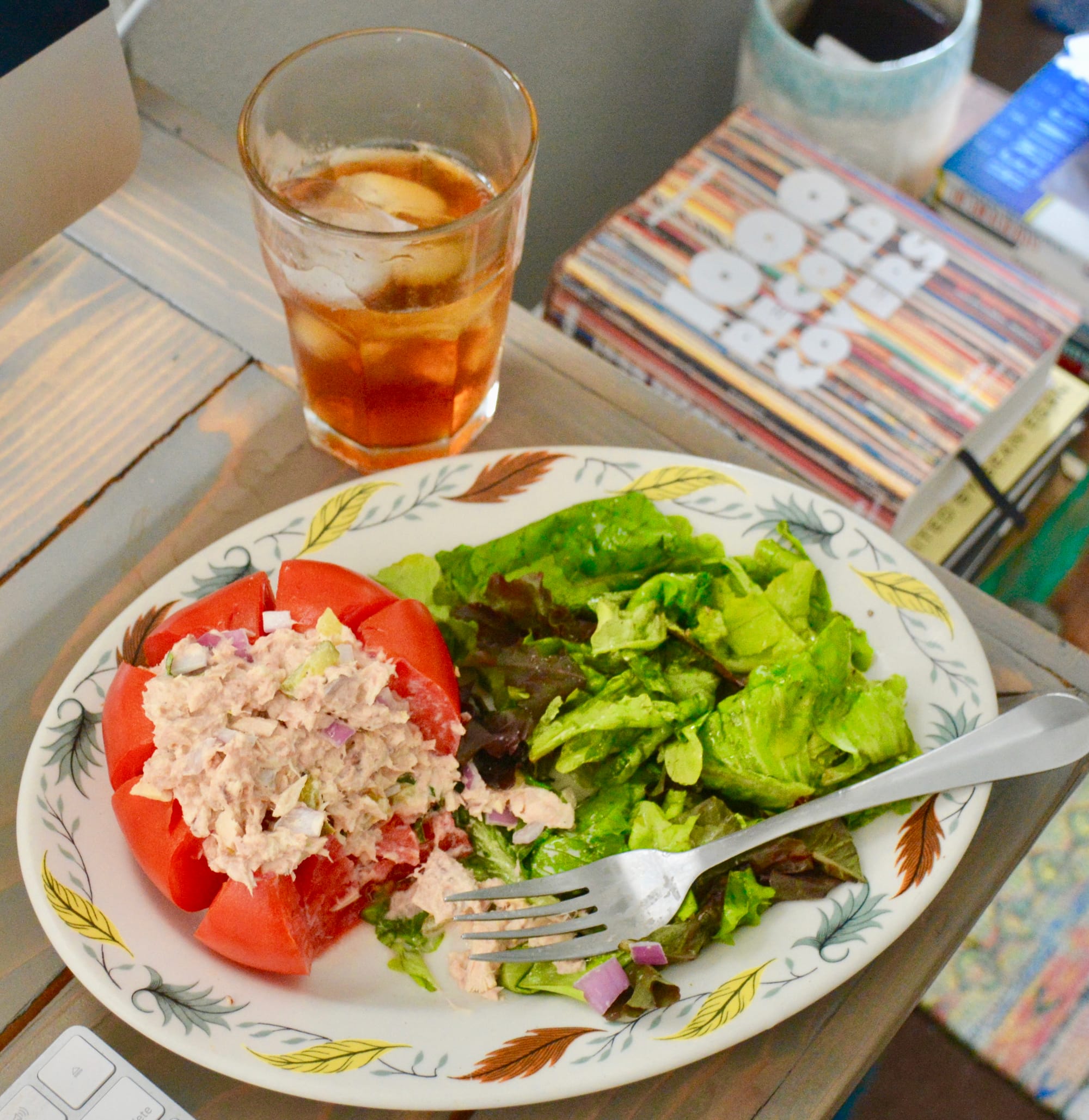 Earth to the Kitchen (via the farmer and the market).
Local, farm fresh and delicious summer eating!

---
go to CAPEview