The new Top of the Marq rooftop lounge offers amazing panoramic views of downtown Cape, but that's not all. It also offers a delicious selection of social and full plates along with fresh, seasonal cocktails like lavender collins and whoa blackberry bambalam. I don't usually order mixed drinks, but reading the creative names of the offered seasonal cocktails was fun. Maybe next time. The Smokey Roberto looks refreshing and cool for watching a warm summer sunset.

I've been to the Marq multiple times since it opened in July and have enjoyed every savory dish I ordered. This new addition to downtown Cape definitely hits the scenic view, scrumptious food and refreshing drink mark.
---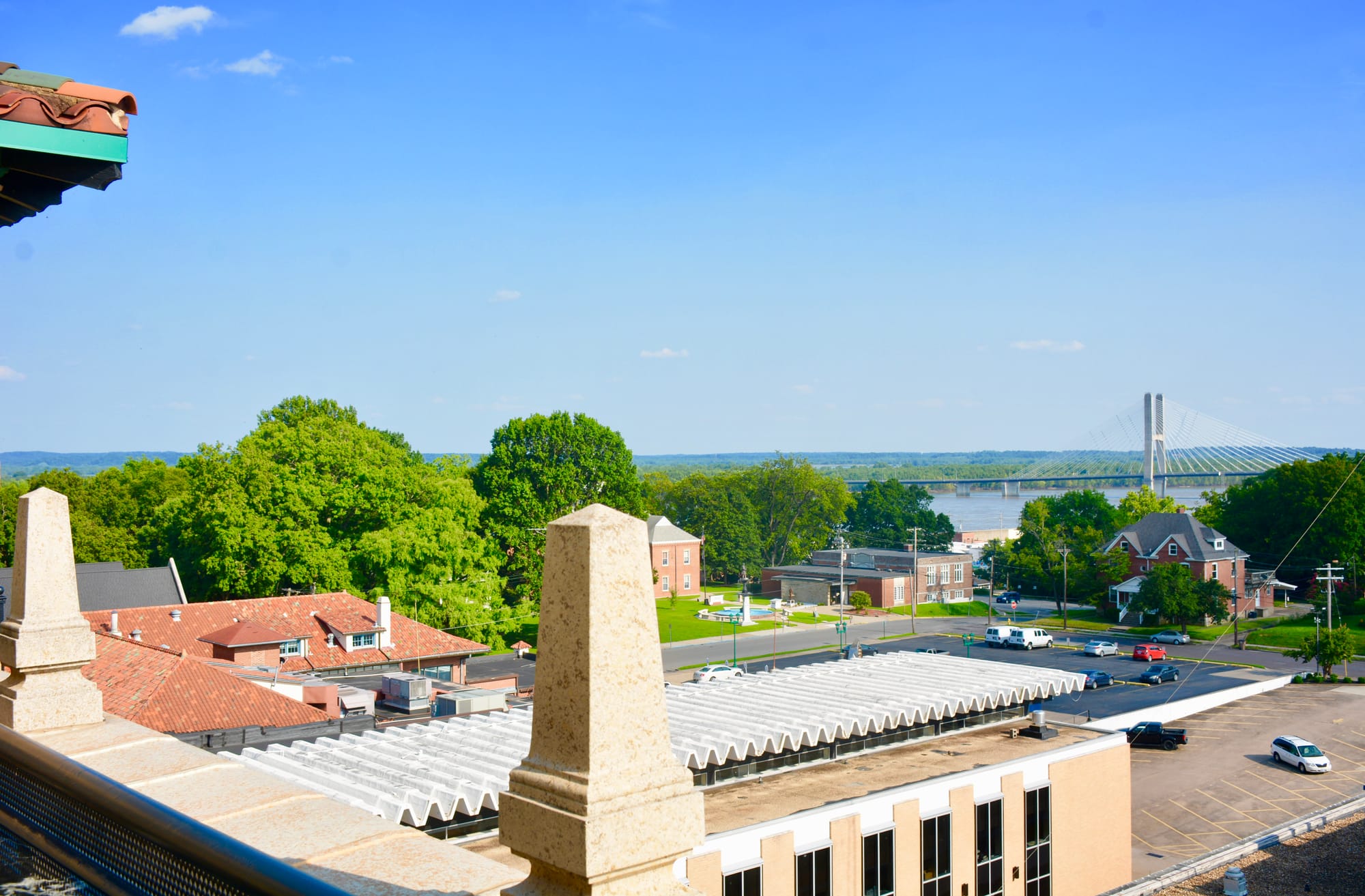 A view of the river and bridge from the top of the historic Marquette Tower.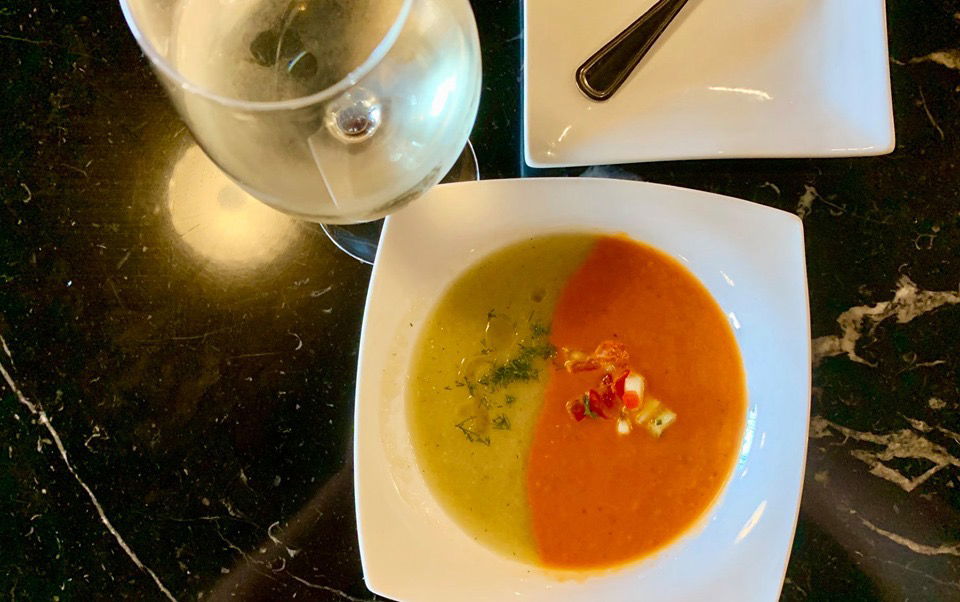 The duo soup of tomato and cucumber was chilled and perfect for summer eating. I especially enjoyed the tomato side - it was refreshing with a cool glass of pinot grigio. Light start to a delicious meal.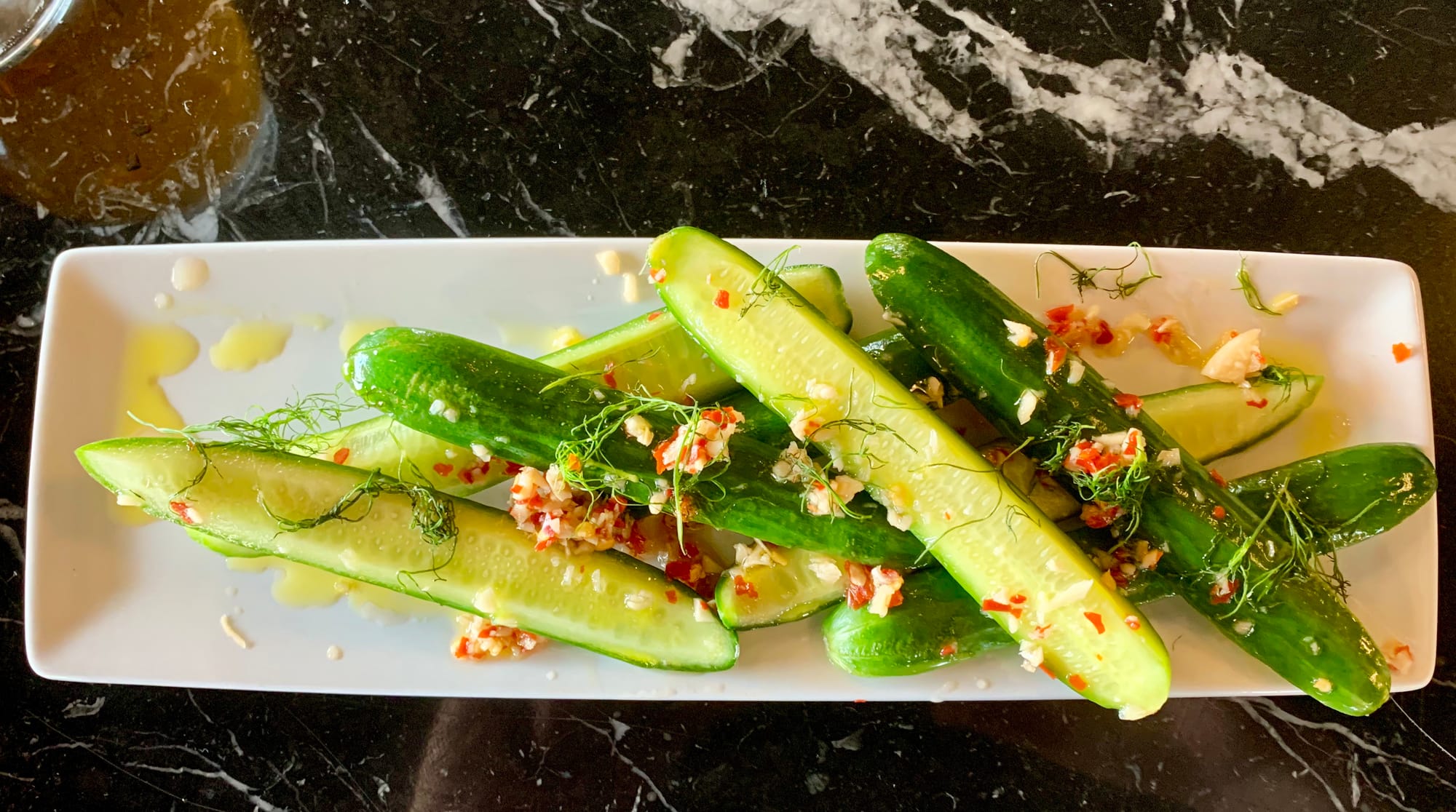 When I bit into the first pickle, I felt and heard a crunch - that's a good thing. Crispy, spicy, with a bit of sweetness, these pickles with garlic, red pepper and fresh dill were so yummy - and that crunch!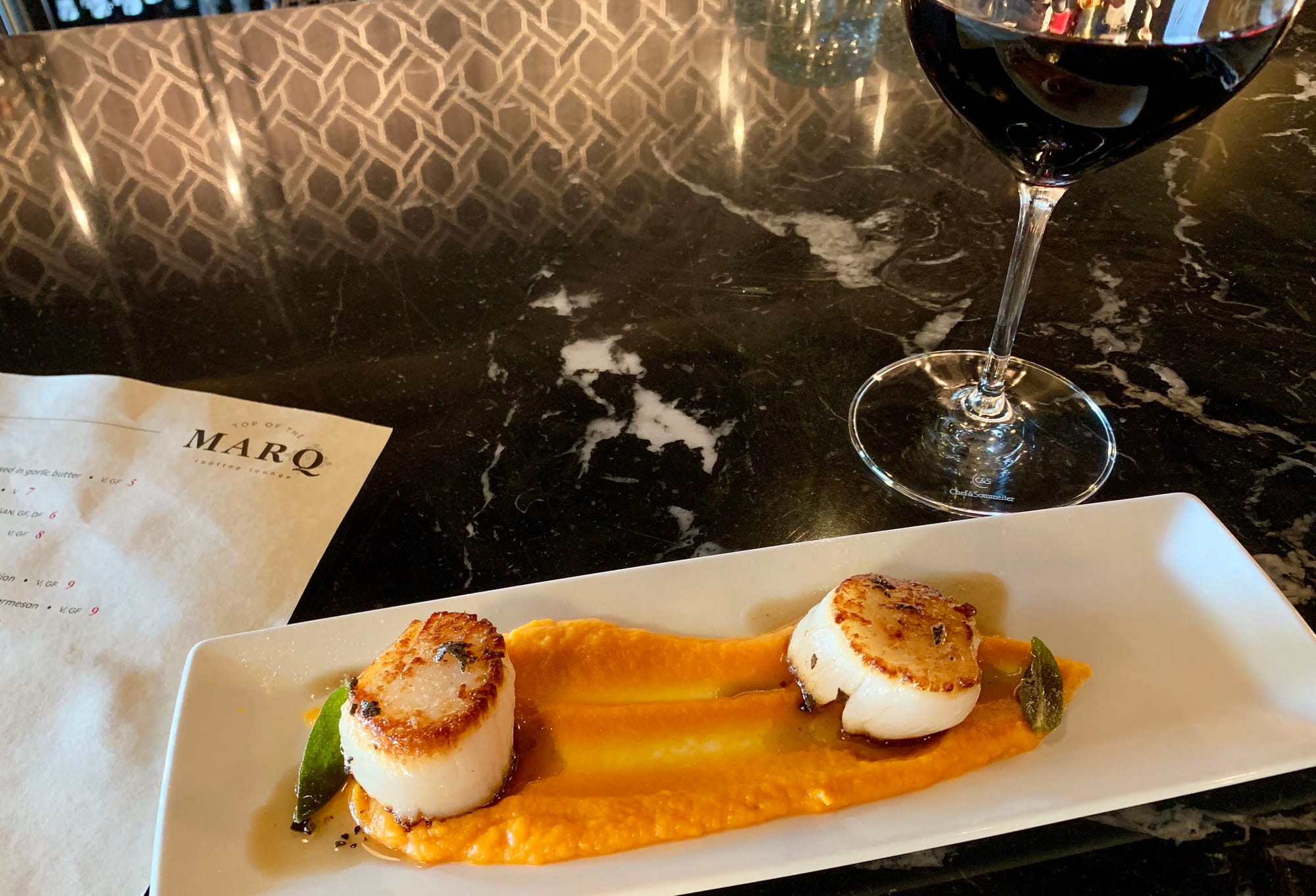 I was excited when I saw scallops were on the menu as I love them, but a tad disappointed when I noticed they were served with a sweet potato puree. I'm not a really big fan so I thought I would just eat around the puree. I was wrong. One small taste and I realized how delicious this root vegetable can be - it depends on how it's prepared. The chef softens the sweet potato with brown butter and fresh sage which nicely compliments the perfectly grilled sea scallops. I've ordered this dish on each visit - it's my favorite.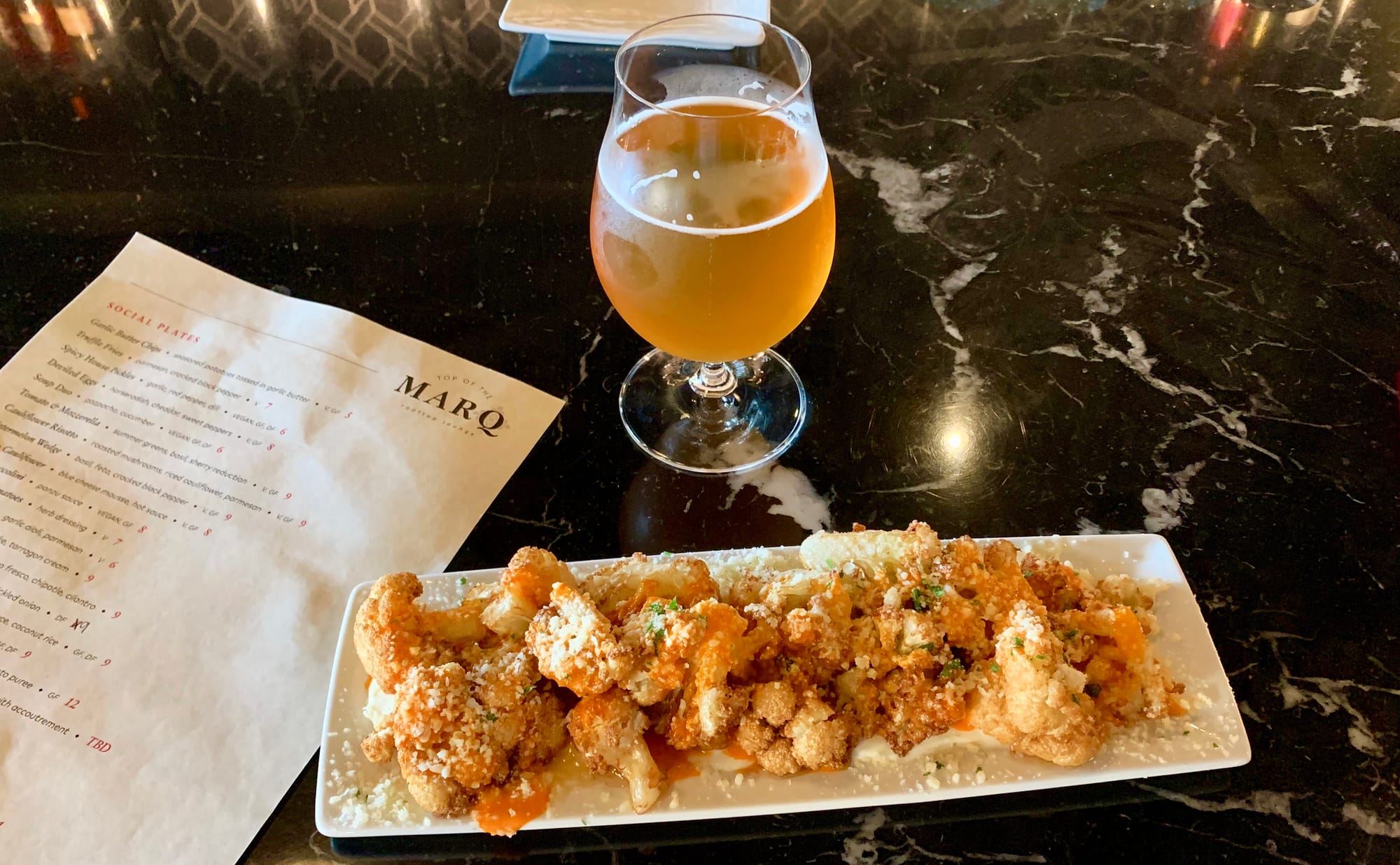 I first tried buffalo cauliflower at Trio, the new restaurant on Broadway offering plant based fare. Although it was delicious, what elevates the buffalo cauliflower at the Marq is the blue cheese mousse that mellows out the hot sauce flavor. I can't wait to try this again with a cold pint of IPA.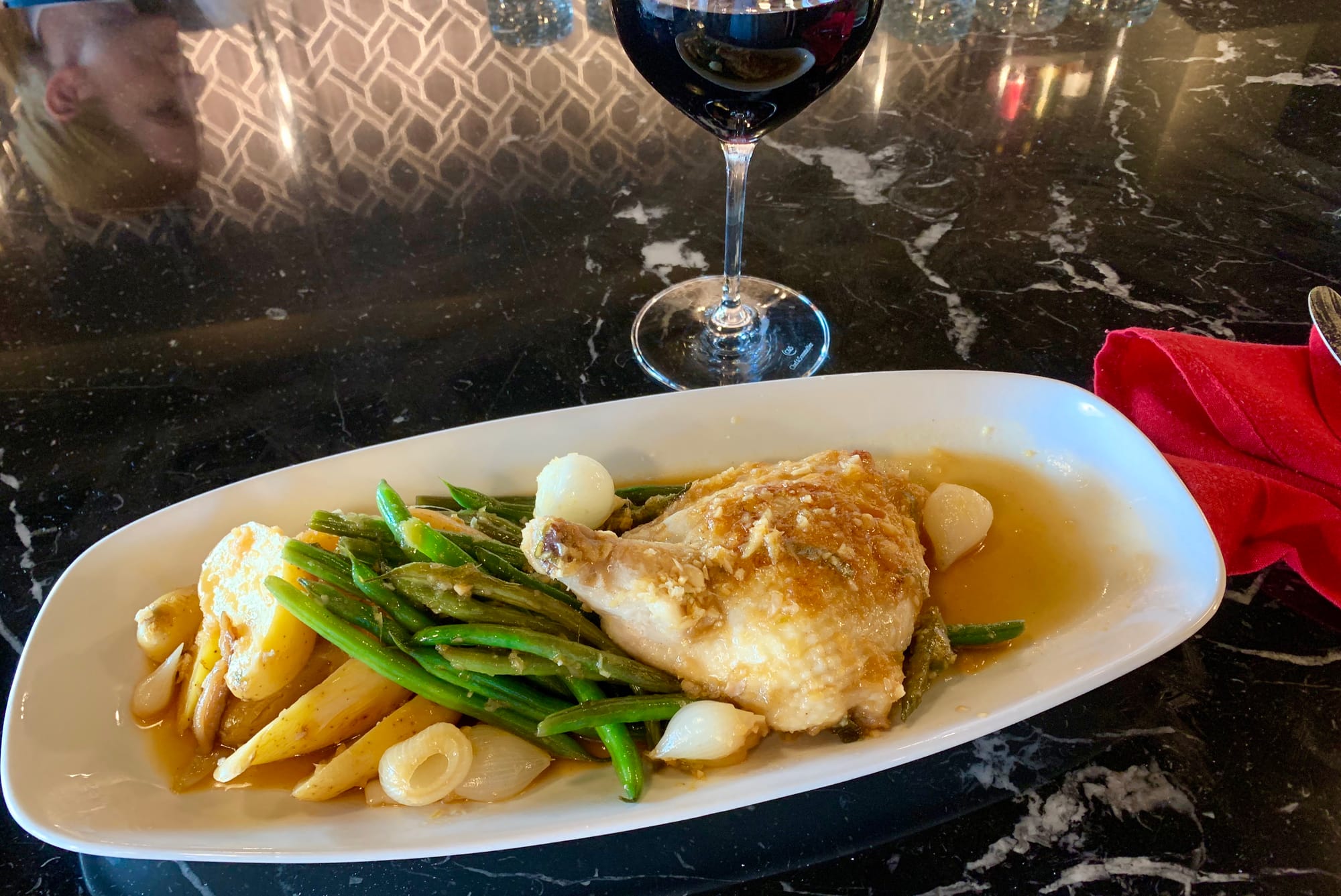 Just the right amount of ginger is what makes this chicken dish delicious. The spice slightly flavors not only the chicken, but the fingerling potatoes, green beans and pearl onions. I've tried three of the four full plates (the manhattan strip and herb barramundi are also yummy), but the ginger chicken is my new go to dish. Just the right amount of ginger.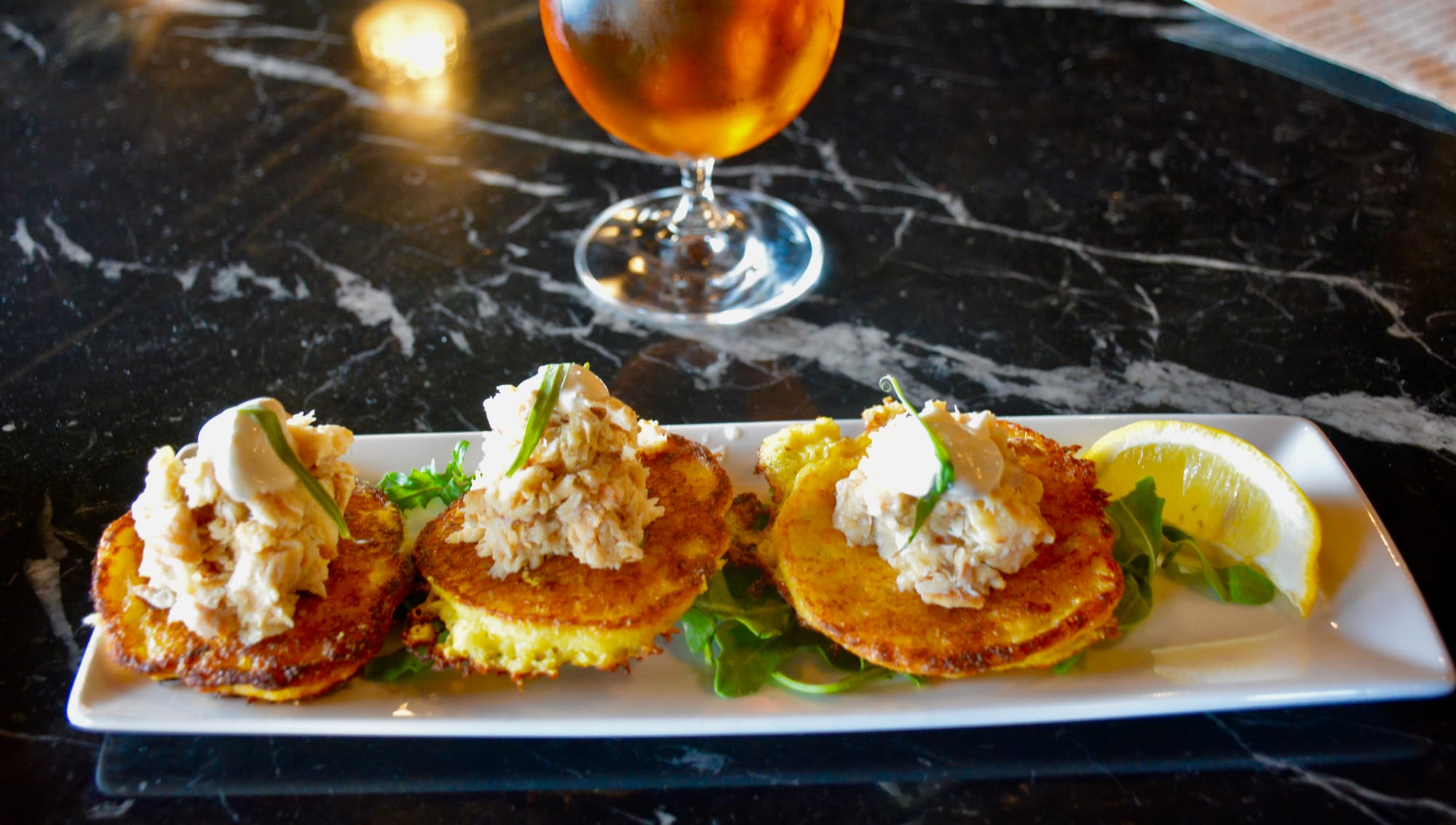 The smoked trout served with crispy corn cakes and topped with tarragon cream is another favorite - taste this dish along with a glass of chilled sauvignon blanc or a cold pale ale.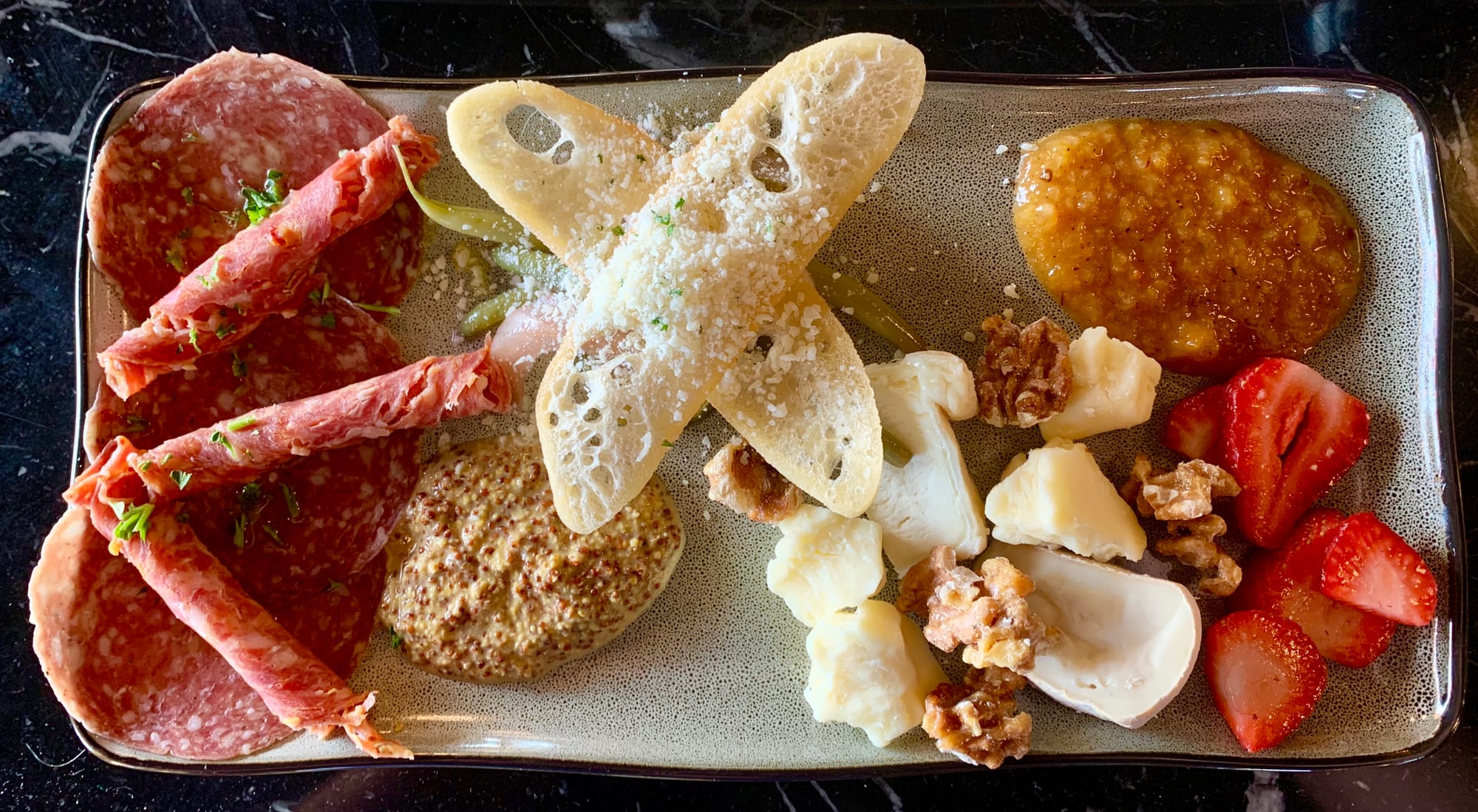 The selection of meats, cheeses, nuts and fruit on the charcuterie and cheese board provides the right amount of texture and flavors - the perfect starter to share or enjoy by yourself as an entree. The cheeses offered, especially the cheddar and goat, were delicious with the salami and marmalade. Try a glass of a cabernet sauvignon as you enjoy all the bits and tastes of this very fun and appetizing board! Putting together a charcuterie board is like creating art - my hat off to the chef artist!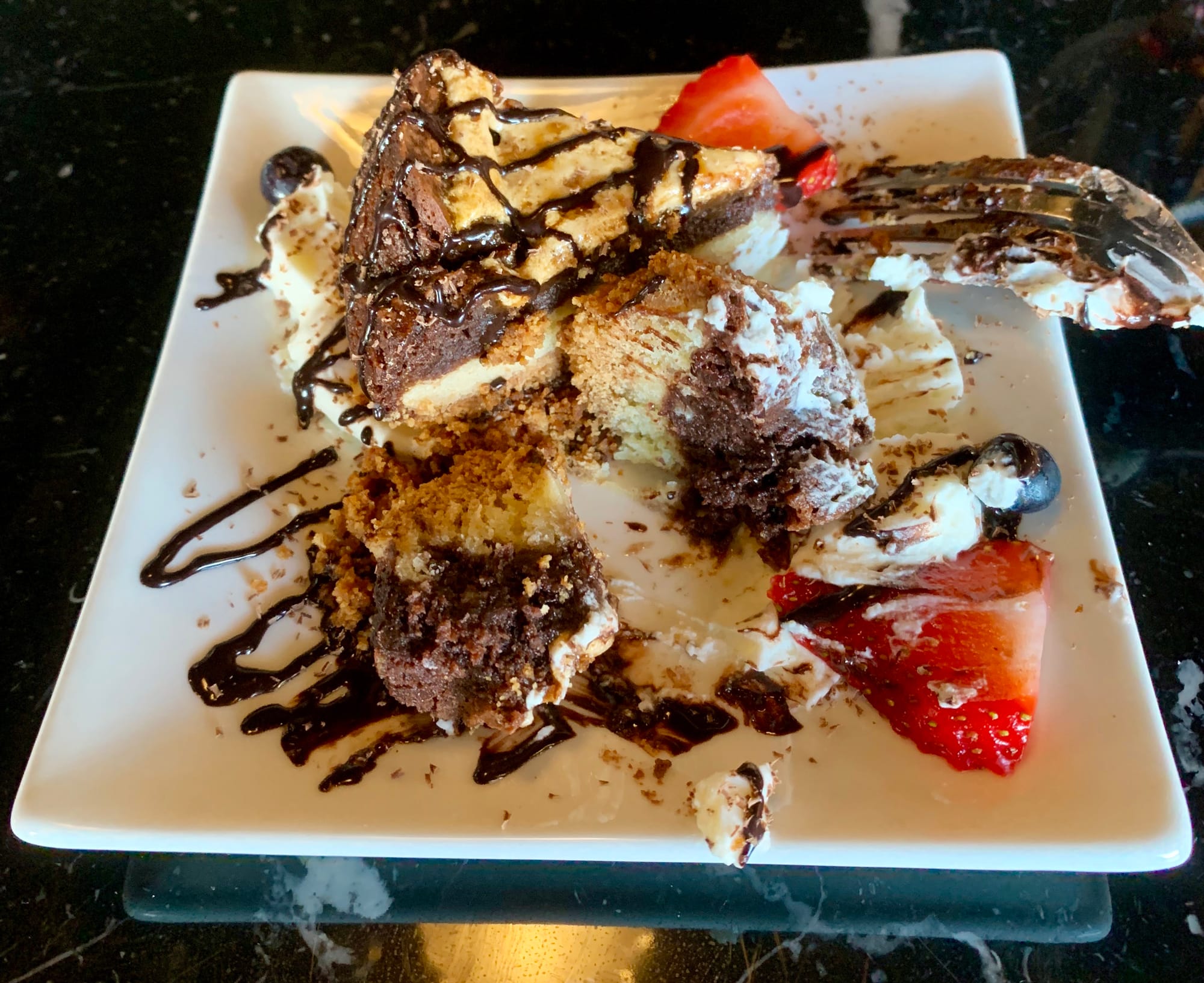 The Marq offers three sweet plates - shortcake with strawberries and fresh mint,
sopaipillas with caramel sauce, and my favorite s'mores gooey butter cake - a sweet way to end a delicious meal.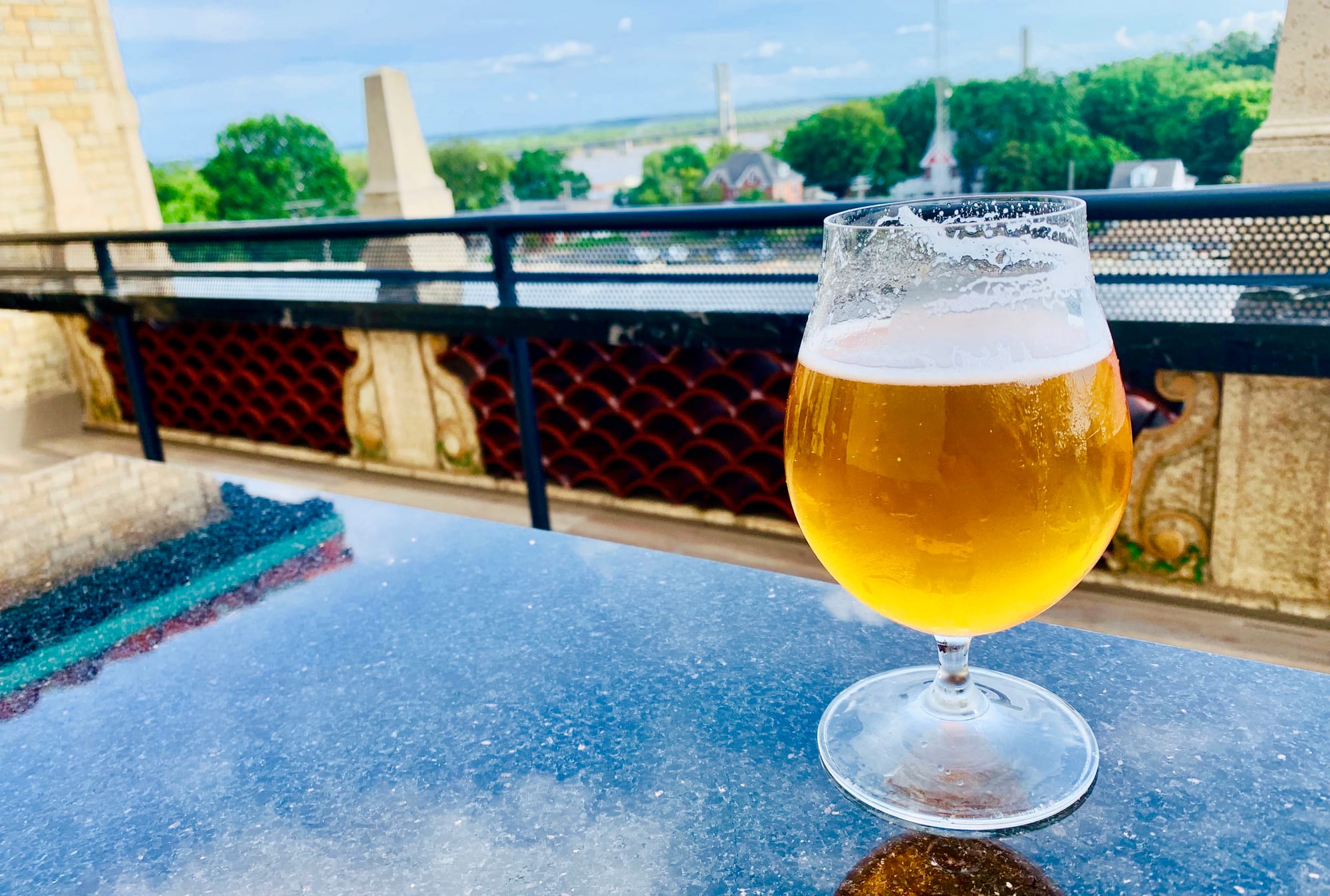 A pale ale with a view.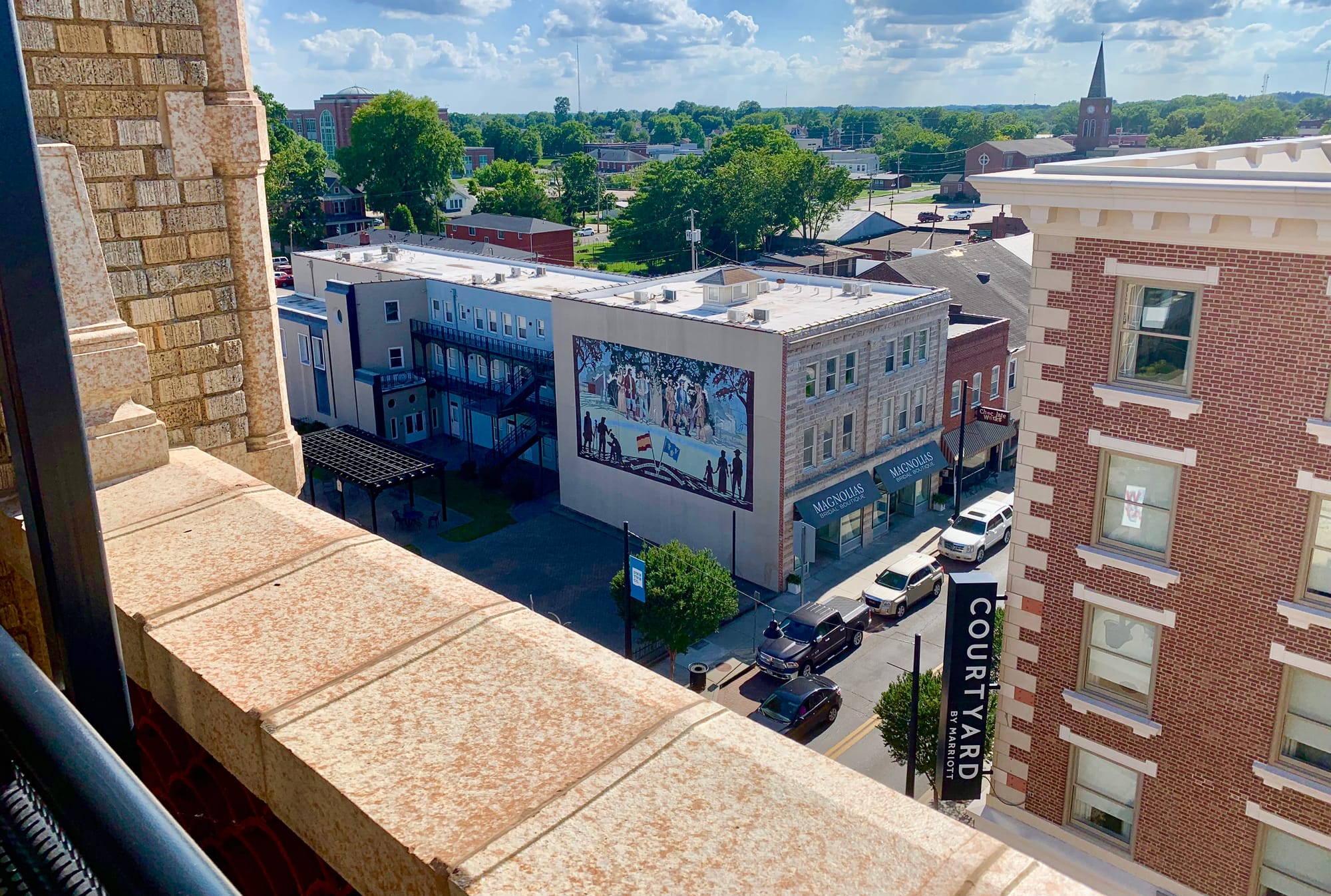 A western view from the top of the Marquette Tower.

So on your marq. Get set. GO!
---