go to CAPEview
---
I started noticing and then began photographing seven interesting sculptures that stretch along nine blocks of Broadway in downtown Cape. These flowing works of art are part of the 2018 Cape Girardeau Outdoor Sculpture Exhibit. You can learn more about this exhibit by visiting the Arts Council of Southeast Missouri and also view pictures of sculptures from previous years.
I like art that's open to interpretation where the viewer can draw their own conclusion. Andrew Arvanetes, one of the exhibit artists, wrote this in his work's statement.

My sculptures have always been object­ oriented and narrative in nature. The interpretation of my work may not be exactly the same as the intended narrative. More important, the viewer should be able to feel a connection based on their own personal experiences.
Here are my thoughts on these sometimes simple, sometimes sublime, but always interpretive sculptures.
---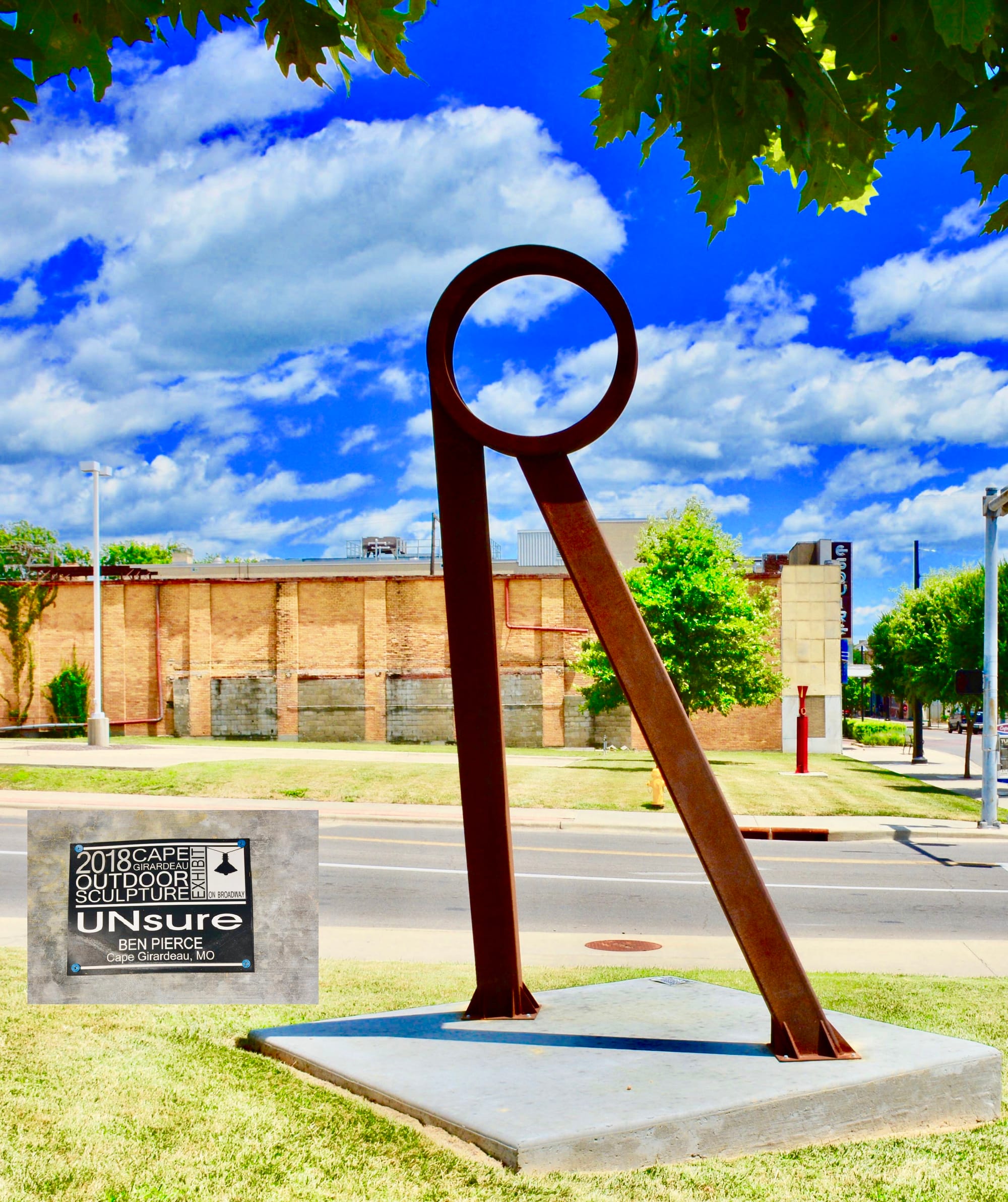 Unsure by Ben Pierce
When I look at UNsure, I see a person leaning into another person - uncertain about going forward and maybe needing a little push. Interesting that the artist chose to capitalize UN in the title. "You in" maybe? "Sure." And then when I looked at the sculpture from a different angle, I see a person putting one foot forward, but hesitating. I like that a local artist's work is represented in the sculpture exhibit.
---

---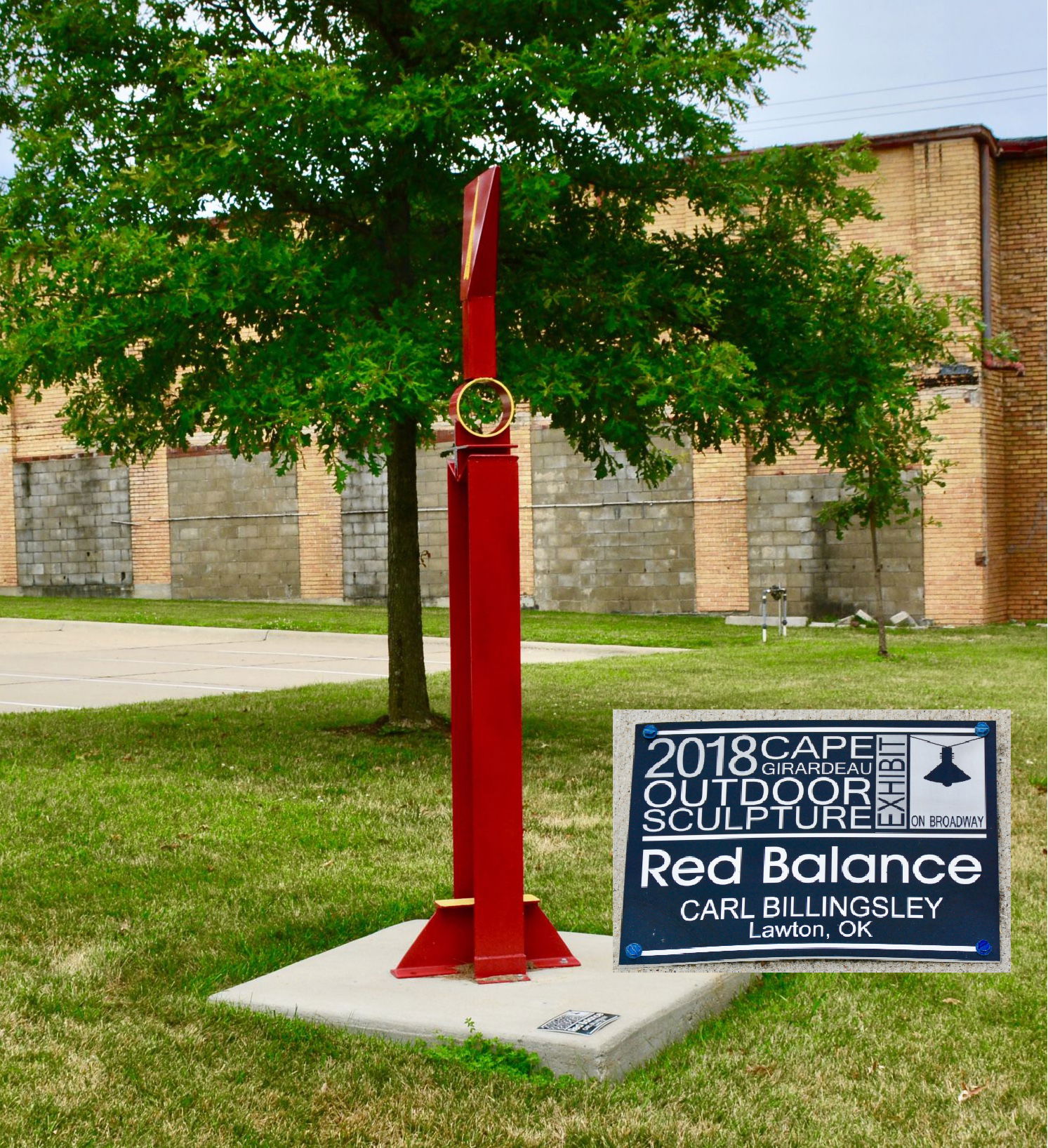 Red Balance by Carl Billingsley
Red Balance reminds me of a movie theater usher from the 1940's with their bright red suit, vintage hat cap, and flashlight. I will admit that the art's location next to the old Esquire theater helped design my interpretation - which is part of art. This sculpture feels like a tribute to a grand old historical relic.

---
---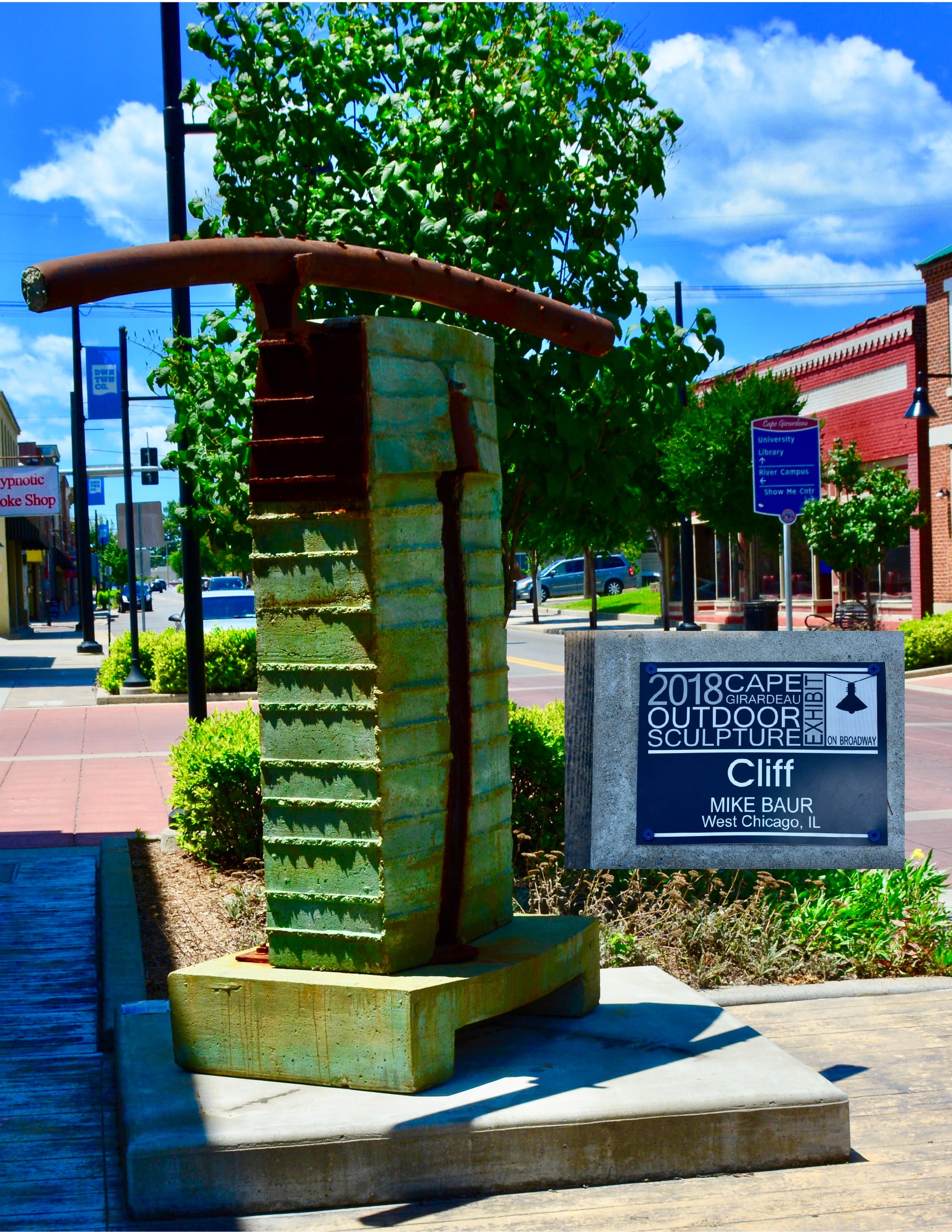 Cliff by Mike Baur
I have two different interpretations of the Cliff sculpture. I see someone standing at the edge of a cliff and contemplating whether to jump or not. And then I see someone who climbed to the top of the cliff with their arm in the air celebrating victory. Cliff can be a positive or negative piece - the charm of art. Bravo sculptor Baur!

---

---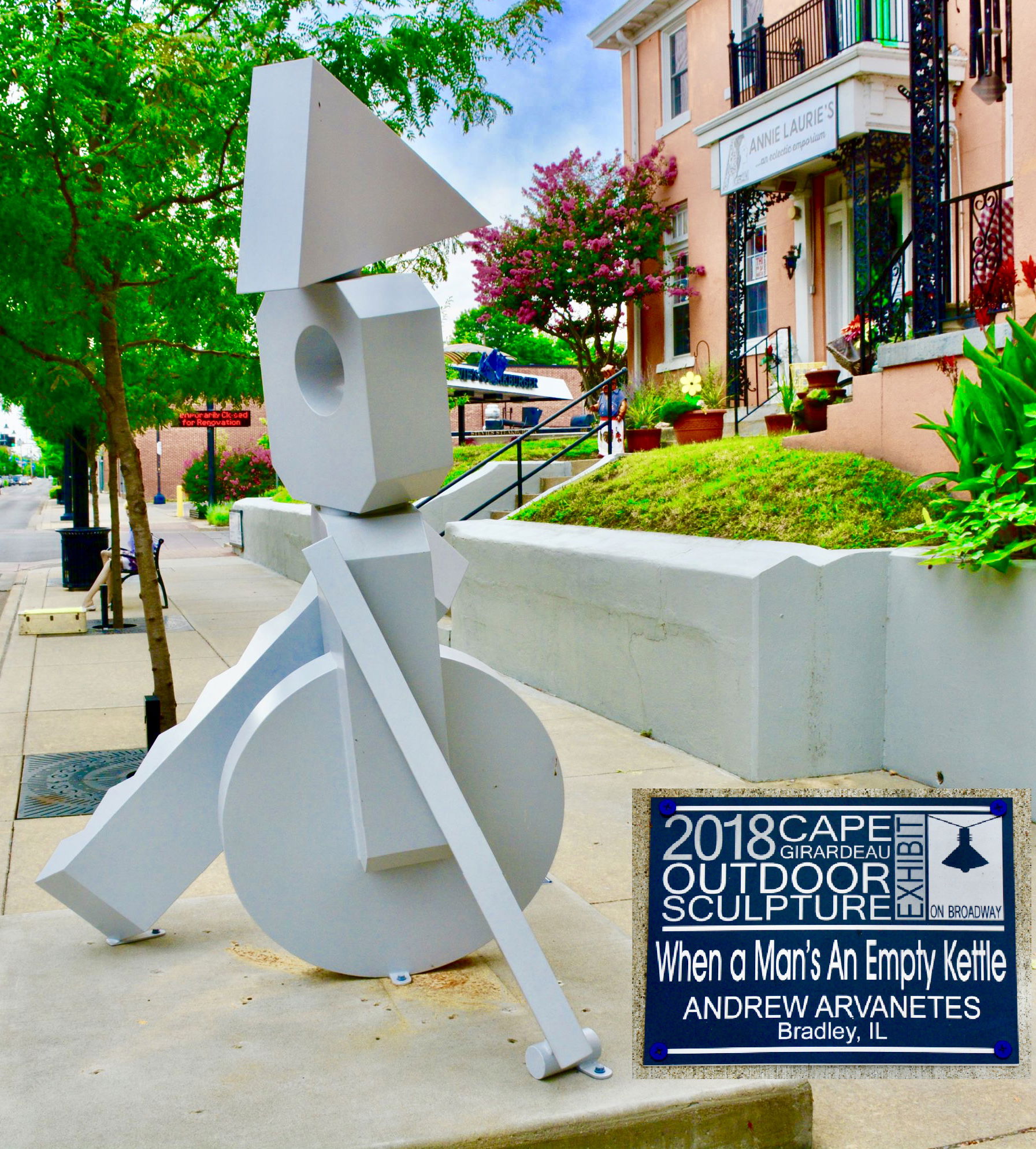 When a Man's An Empty Kettle by Andrew Arvanetes
When I read the title of this sculpture I immediately thought of the Tin Man from The Wizard of Oz. I like how the artist uses various shapes to create the sculpture. And although a heart isn't one of the specific objects, it's there albeit broken. One of my favorite sculptures and one of my favorite movie quotes: "Now I know I have a heart, because it's breaking." If the sculpture had a different title, would I have envisioned something different? Did the artist impact my perception of this piece with the title? Maybe, but it is what I wanted to see.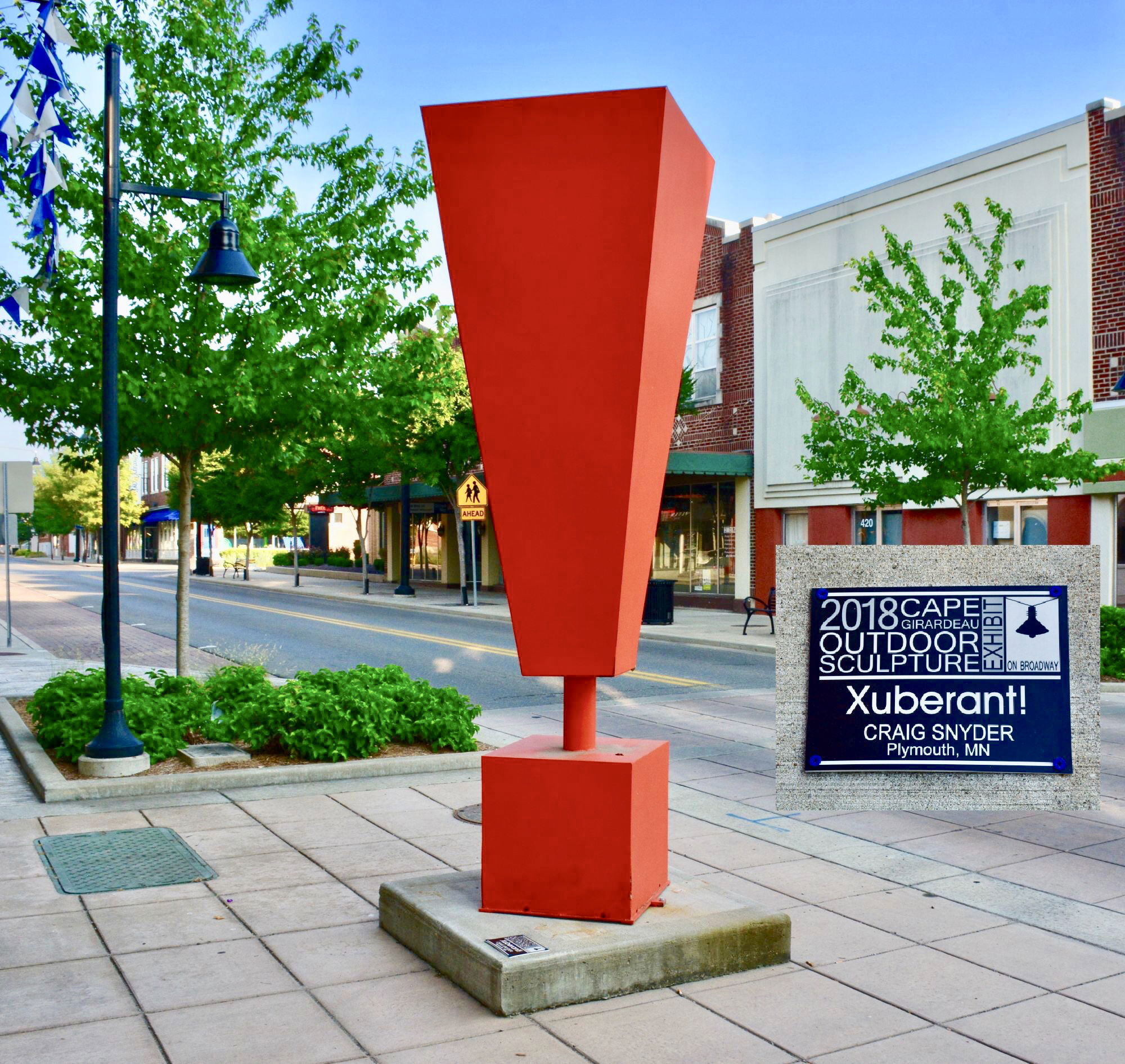 Xuberant! by Craig Snyder
Xuberant! really brightens up Broadway with its loud orange color and bold presentation. It brings a lively energy to Broadway - such a buoyant and fun street piece!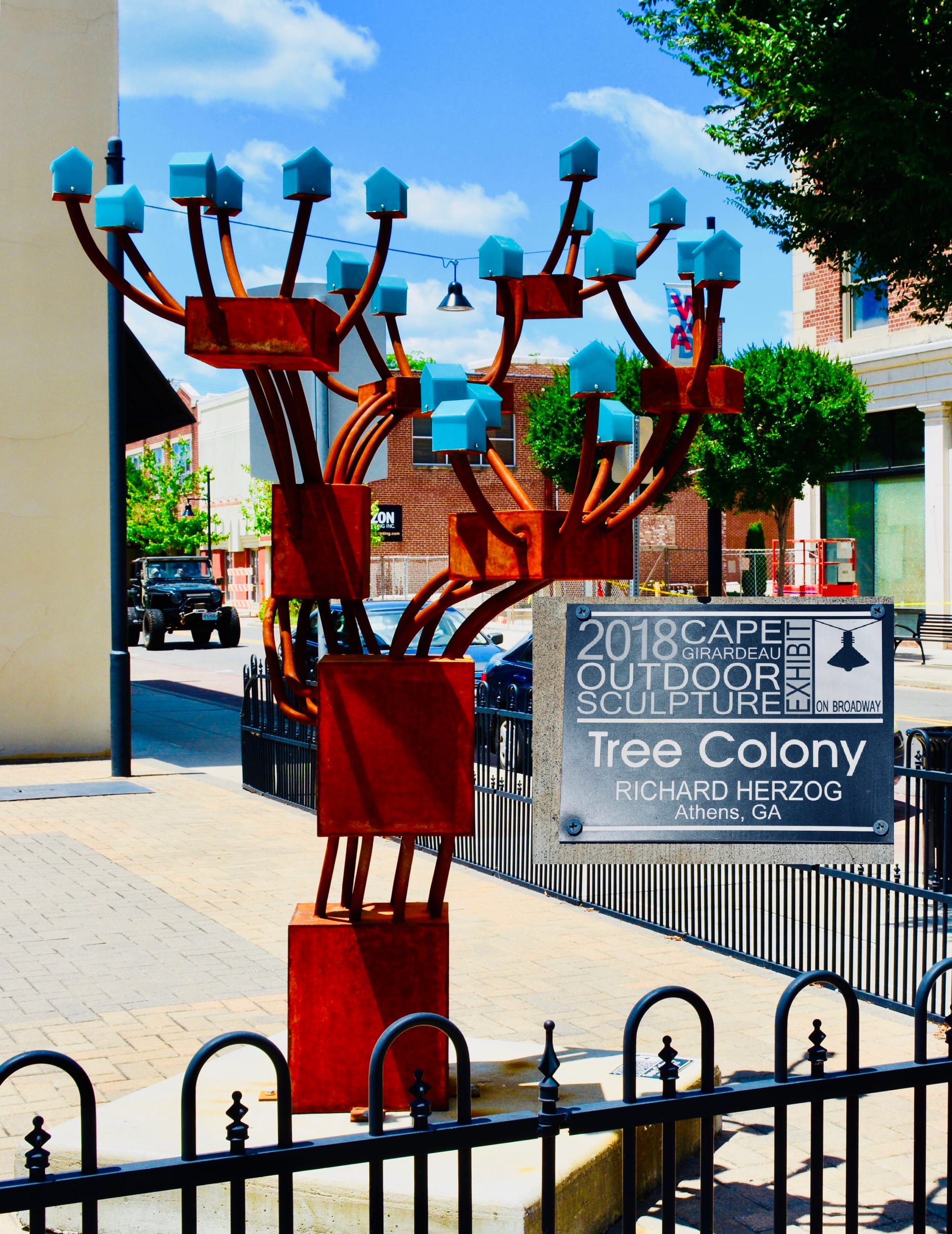 Tree Colony by Richard Herzog
It's interesting that my least favorite of the sculptures is where I live. I like it, but it's more straightforward than the others and doesn't leave much to interpret. I can see the tree and I can see the colony. I do like the earth tone of the trunk and branches and the choice of blue leaves is interesting since leaves are never blue.
---

---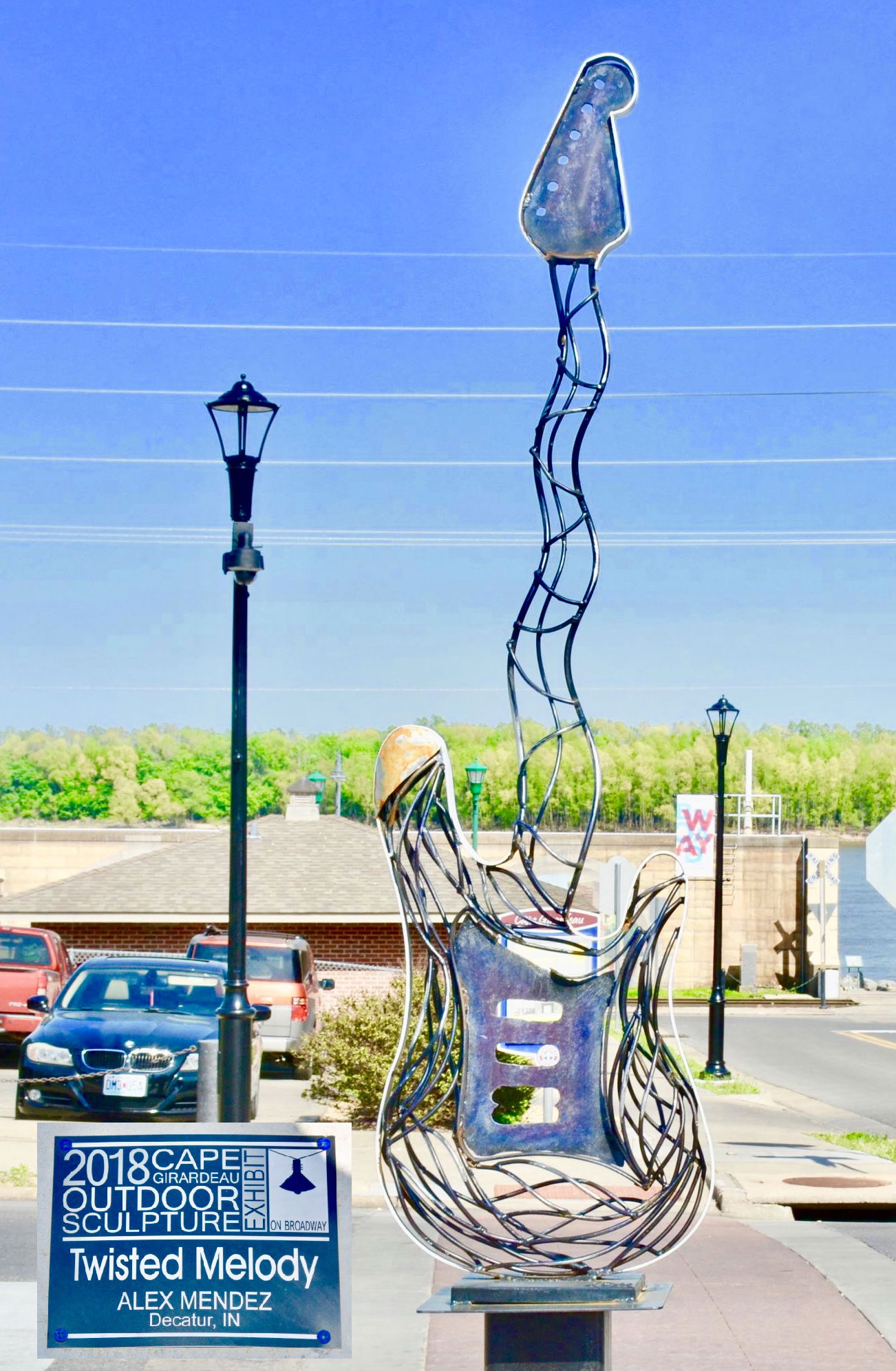 Twisted Melody by Alex Mendez
Guitarist Robert Johnson was known as the king of the Mississippi Delta Blues and it's somewhat fitting that Twisted Melody is down near the river. This is my favorite sculpture probably due to my love of guitar rock. I can hear Jimi Hendrix (Purple Haze), Jimmy Page (Stairway to Heaven) and Eric Clapton (Bell Bottom Blues). Twisted Melody is definitely wired for sound - a slow burning blues riff. Five out of five guitar picks for Artist Mendez.

So take a stroll down Broadway and interpret for yourself these interesting works.
Art really does make the world, and Broadway, a better place.
---

---
"Always keep your eyes open to the world around you. Because when you are out walking you may see something that will inspire you. Don't miss it."
---
go to CAPEview